The Blessing of the Icon of St. Vasily Martysz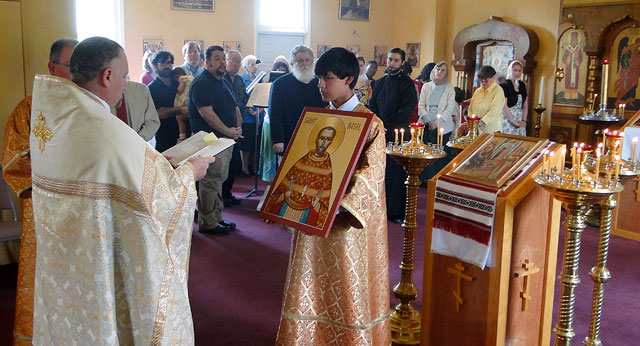 Fr. Paul and Matushka Patty have commissioned a series of icons of the Saints of North America, and a newly-commissioned icon of St. Vasily (Basil) Martysz was blessed on this occasion at Holy Cross. Father Paul spoke about St. Vasily, who was born and raised in 19th Century Poland, was ordained a priest, and came to serve in Alaska, sometimes traveling in a kayak to serve his flock across wide distances, in areas that included Spruce Island. Out of concern for his family, they later moved to Pennsylvania, and later still Connecticut, New York and finally to Canada. After serving nearly 12 years in America, they returned to Poland in 1912. The outbreak of the first World War caused them to be ordered to move to Russia, where, after the Bolshevik Revolution, he was forced to earn a living unloading railroad cars. After the war they returned to Poland where he became a chaplain in the Polish Army, where St. Vasily formed an Orthodox military chaplaincy, of which he became the head. He participated in the process of obtaining autocephaly for the Orthodox Church in Poland. He ministered to internees in Ukrainian internment camps and helped establish churches. After he retired, the second World War broke out, and the German Army invaded Poland. Shortly before the fall of Germany, bandits broke into his house, beat his pregnant daughter causing a miscarriage, horribly tortured St. Vasily, and eventually shot him. St. Vasily has been taken as the heavenly patron of the Orthodox Christians in the Polish Army.
[Ref: The Holy Martyr St. Basil martysz of Osceola Mills, Old Forge, PA, America and Canada, New-Martyr of Poland.]
Troparion, Tone 4
O Righteous Hieromartyr Basil,
Missionary teacher in Alaska and North America;
Pastor and Guide of Orthodox Christians in the Old World and the New;
Soldier of Christ and Heroic Champion of the Orthodox Faith;
Having offered your life in service to God and His holy Church;
And suffered torture and death for the Lord who willingly suffered for us;
Intercede before Him to grant peace to the world;
And to our souls great mercy.