We Are Building a New Church!
We have been happy and grateful to God for the building we have been leasing since 2006, but with His blessings, our church has grown, and we have become too crowded in our temporary home. With God's help, we will build a new church, and we expect actual construction to begin this year, 2018!
This page will log our progress, with the beginning of our story at the bottom, and the most recent post at the top, just below:

---
Update: February 15, 2021
This year has seen a tremendous amount of activity on the building front, despite the ways that the COVID-19 pandemic, and national and local efforts to combat it, have affected our parish, our builders, and the price of building material.
We have been working closely with our builders RPM to finalized a design we can afford.
We have been given preliminary approval from OCCIF (Orthodox Christian Capital Campaign) for loan of $650,000 and have done the loan application.
Archbishop Alexander, along with the diocesan building review committee, has blessed and given us the instructions to move forward with our current plan. We have been working closely with Noel Bush, the treasurer of the diocese, to make sure we are working within the diocesan guidelines for our building program. The Diocese is prepared to help us with the tithe-credit program.
RPM submitted the permit plans with the city of Kernersville and everything has been approved.
To date have collected $1,194,971 towards our building. This amount includes not only money to build but future operating costs fund, money for fixtures and furniture, as well as our pre-construction services. We have $957,953.12 of our own funds that can be used toward the building ($1,042,953.12 — $85,000) + $591,000 loan = $1,548,953.12
Here are recent drawings from our builder: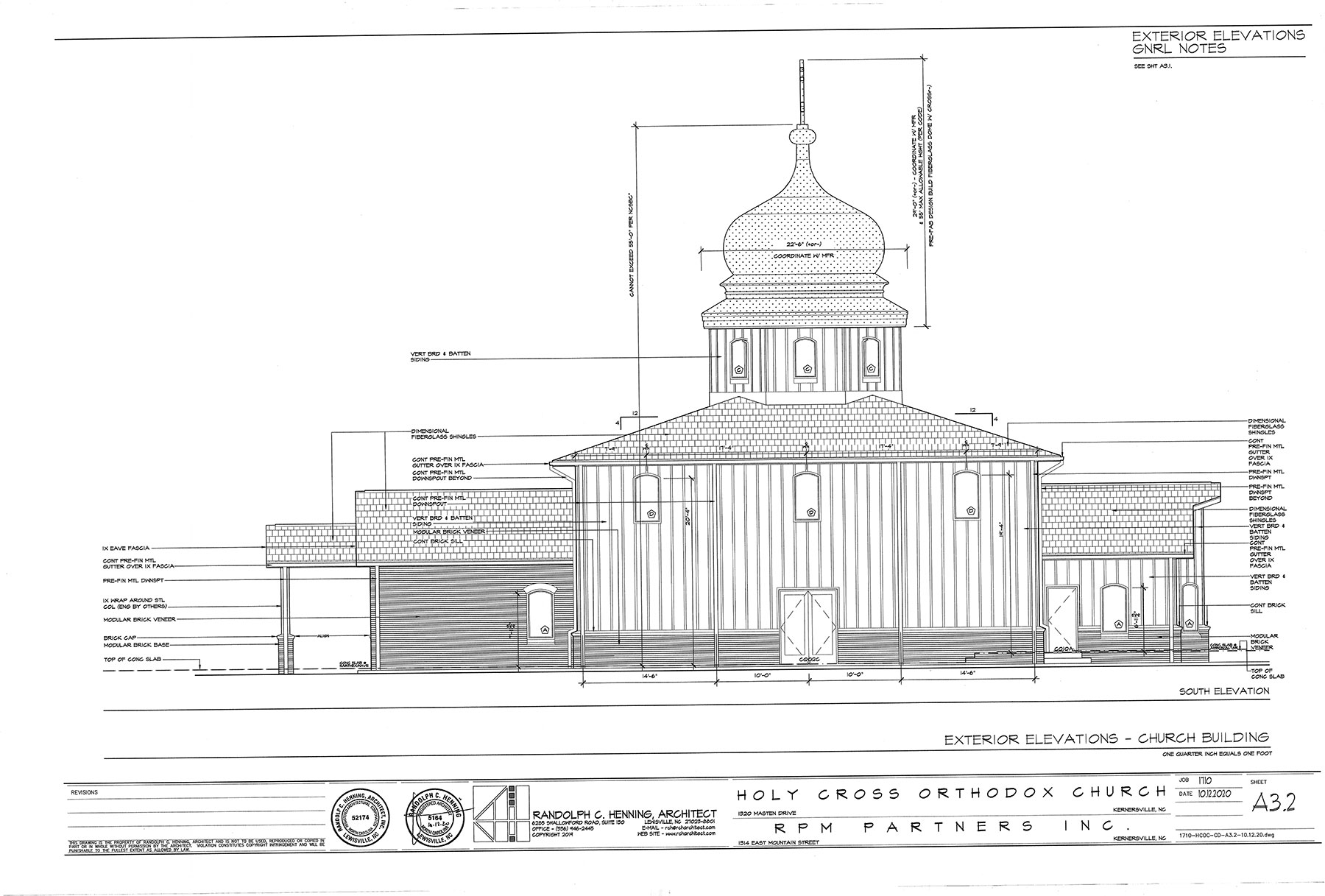 Update: October 2, 2019
Dear friends and faithful of Holy Cross,
Thank you for your faithful prayers and generous support of our building process. We have reached the exciting phase at which funding is falling into place and structural engineering is being completed for the total project.
As was announced a month ago, Steve Iltis, Steve Richards, and I, representing our Finance Committee, had a great meeting at the end of July at our diocesan assembly with Orthodox Church Capital Improvement Fund (OCCIF). They are a great organization set up precisely to help fund projects like ours, offering terms more favorable than banks, with their more complex underwriting, can offer. To prepare for the meeting, we took a preliminary loan questionnaire, which reviewed our past records and future growth plans, and then we met to discuss our situation in more detail. After asking some clarifying questions, OCCIF said that they want to work with us! We discussed a loan amount of approximately $650,000 at 5% over 20 years. We are excited to partner with OCCIF, and we are also grateful to the bank we have been talking to for a few years before meeting with OCCIF, because while they were not the type of lender that typically would fund a project like ours, they provided excellent advice about what it would take to demonstrate our loan-worthiness and financial health to our future lender.
We also had an encouraging meeting with the Diocesan treasurer, and we are scheduled to begin receiving repayment of the funds that we have had on deposit with the Diocese. This will allow us to have that money available for the beginning of the construction phase.
As for our progress on the building itself, the Building Committee met with our builder in August, and we had the opportunity to see the amazing work of the structural engineer. The meeting was not without its challenges, because due to tariffs and other market forces, the price of structural steel has risen significantly recently, which means an increase in the cost of the steel in our building. While this does put us in the position of having to make some hard choices, it is not unexpected; we have talked from the beginning about the influence of the cost of labor and raw materials on the overall cost of any project we may undertake. We believe that we will be able to finalize the project and come to an agreement with the builders on the guaranteed maximum price, despite the challenges of increased material costs. We will be meeting again soon to discuss some additional options produced by our architect and structural engineer that will allow us to stay within our budget. As a reminder, the design-build process gives us the advantage of knowing what the maximum project price will be, barring any later design changes.
Once we have our contract with the builder, which should be possible to draft soon, we can formally apply for the loan. Then, when we have the loan in place and the building documents are finalized, we should have a clearer idea of the construction timeframe. We will also be able to look at the project as a parish and take the vote to go into debt that is required by our by-laws.
I'm so excited about reaching the point at which construction is within reach, especially knowing that we have the firm support of our Diocese and Archbishop Alexander for the direction we are taking. Please continue to pray for the process as we finalize our work.
In XC,
Fr. Christopher
Update: June 7, 2019
Dear friends and faithful of Holy Cross,
God has gone up with a shout!
Blessed feast!
We have not had much to report about the building project since our last update before Lent, because our architect and structural engineer have been at critical points in other projects. This short breather has been a blessing, in that it allowed us a little break from the stressful aspects of the building process to enjoy the blessings of Lent and Pascha. Our Architect and Structural Engineer have begun working on our building project in earnest again in the past few weeks and have been working collaboratively to arrive at the ideal configuration of the structural steel for the building. Once they finalize the basic structural engineering, they will begin meeting with the other contractors, and then with the city of Kernersville to do a preliminary code review to make sure that our proposed plans meet city requirements. The builder has said that that we could be in a position to break ground this fall if things go well with the city.
We are delighted to share that we have also begun meeting with some banks to discuss our options for financing the project. We are optimistic about our ability to approach the project from a place of strength, as money continues to come in and we have collected over $1 million, which is a great blessing! God has truly multiplied our efforts and our gifts. Thank you all so much for your continued support of our efforts to build a new home for Holy Cross through prayer, encouragement, and generosity.
In XC,
Fr. Christopher
Update: March 2019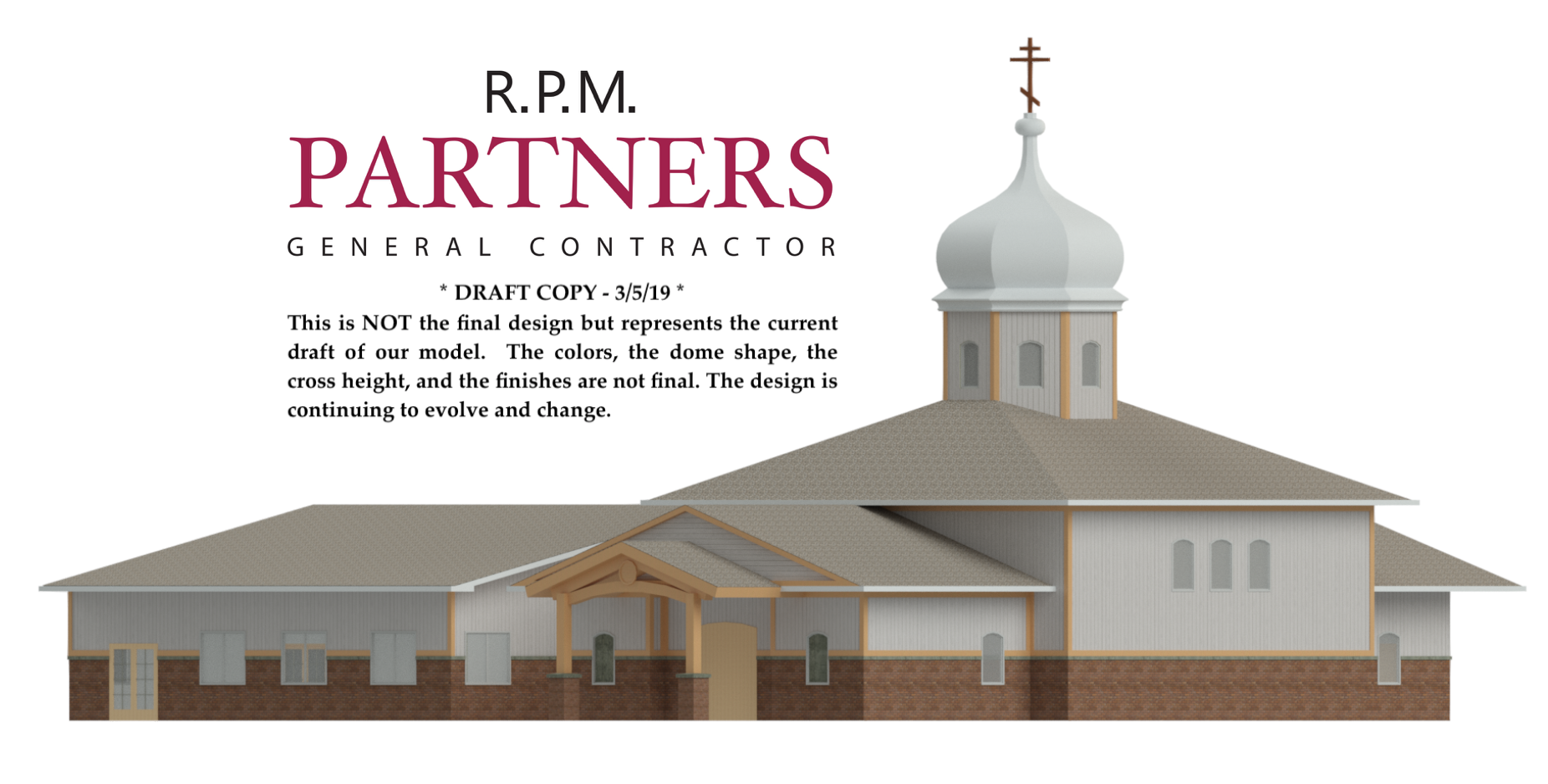 Dear Faithful of Holy Cross,
I am excited to be able to share with you a brief update about our building design process, which will show you some of what we have accomplished since we last shared a status update at the meeting in November. We are currently making excellent progress towards our ultimate design by working with our builder, RPM Partners, to translate our vision for the major exterior features and general shape and layout of the buildings into plans.
The current version (see above), which is NOT a final design, represents the changes that have been made over the past several weeks and serves as a sort of snapshot in time of our design process. I want to emphasize that what you see here is not final, including the dome shape, cross design and height, windows, and other details. In fact, many of the exterior finishes and all of the colors are builder-selected neutral placeholders that show where a door may be or where there could be brick or siding, but will not even be discussed, let alone finalized, until later in the process. However, we expect to be arriving at a final design relatively quickly, as the committee has been able to build consensus around the major features and functions, and our builder has expressed confidence that we are progressing well towards our goal.
Some of the next steps in the process include:
Seeking engineering structural analysis
Having RPM Partners meet with Kernersville city officials on our behalf to ensure that we are on track to meet local requirements
Working on the interiors to refine the existing floor plan
Collaborating more closely with our architect to finalize structural and aesthetic details inside and out
Please continue to pray for the process and the people involved in it, and thank you for your continued support.
In XC,
Fr. Christopher
Second Meeting with Our Builder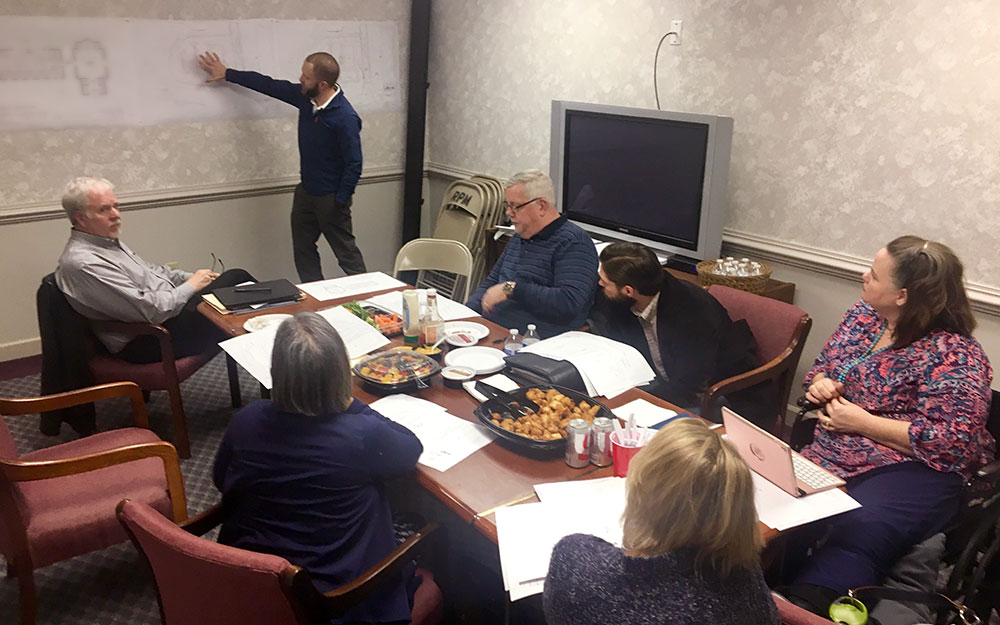 On January 9 we met again with our builder and reviewed progress so far, tentative aspects of designs, meetings with the city of Kernersville, etc..
First Meeting with Our Builder
After so many years of hoping, researching, planning, preparing and praying, On November 2, 2017, at last we had our first meeting with the builders, initiating the actual path toward building our new church – we hope to begin actual construction this year!
Our New Church's Story Begins:
Our parish was established to be a beacon of Holy Orthodoxy, offering English-language services to all people of all origins in the Piedmont Triad area of North Carolina. God has blessed this mission! From an initial group of 25 people, we have grown to 100+ people attending Divine Liturgy. We provide classes for inquirers and catechumens, and have baptized and chrismated many dozens of new members of the faithful since our founding. Our flourishing church school and youth group help our children grow in fellowship, service, and love of their faith. We have a large number of children who benefit from our educational and social activities, including our new youth group for teens. We continue to see new folks arrive and engage in all areas of parish life. By the grace of God, "... the Lord added to their number day by day" (Acts 2:47).
We have been very happy and grateful for the building we began leasing in 2006, but as the parish has grown, the need for space has become increasingly pressing. Being crowded is a blessing, but also a persistent inconvenience during both worship and fellowship hour. We decided we needed a new home, with more room to welcome all who God brings to us.
We did research, talked together, prayed together, and finally all agreed to find a central location that would accomodate all of us as well as possible, and be available to people all across the Triad. After long searching, we found and unanimously voted to purchase land in Kernersville, in an excellent central Triad location. Through personal donations, fundraising efforts and assistance from the Diocese, the land has been fully paid off! We then mounted a successful Capital Campaign (please see our Raising the Cross website!), and we are expecting to begin building our new temple in 2018!
Our New Home will be Central in the Triad:
1320 Masten Drive in Kernersville.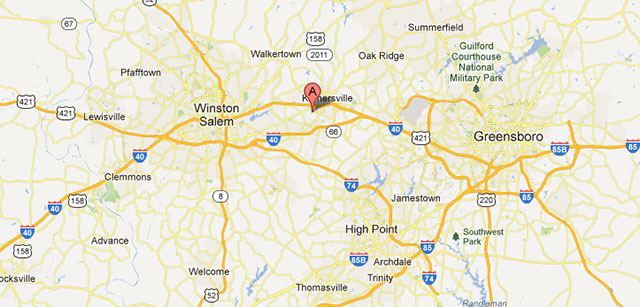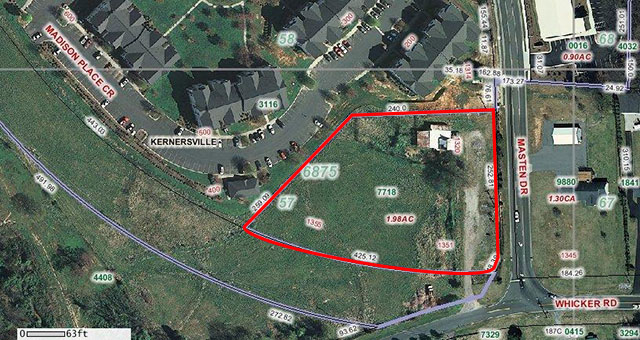 Project Description
Our goal is to build both church and fellowship hall at the same time, so that we will be able to enjoy a full parish life in the new facilities as soon as they are built. The proposed church will accommodate 250 worshippers, and its design will reflect the breadth of Orthodox heritage reflected in our diverse membership. The fellowship hall will feature sit-down dining for 200 people, along with restrooms, classrooms, an office, and a kitchen suitable for shared community meals and events. The new interior spaces will include essential furnishings and equipment, with opportunities in future years to add iconography. Outside, we hope to build a fenced playground, along with parking and landscaping which enhance the property's accessibility and beauty.