Jeanette (Anna) Rouse Lanier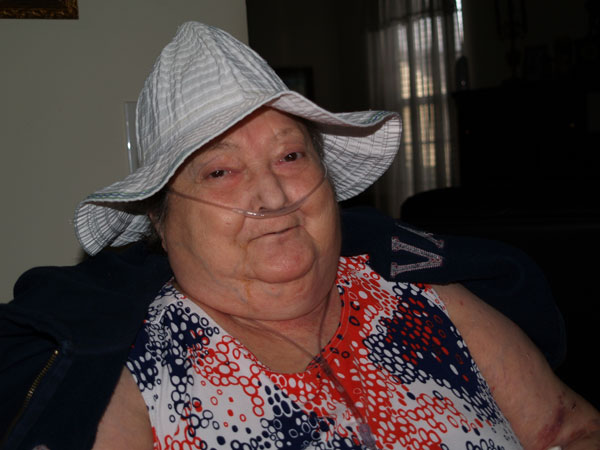 The newly Chrismated handmaiden of God, Jeanette (Anna) Rouse Lanier, 72, of Greensboro, was Chrismated on Sunday June 27, 2010 and fell asleep in the Lord on Friday, July 2, 2010. Jeanette is the mother of parishioner David Lanier who had been an advocate for her Chrismation and, by the Grace of the Holy Spirit, His Beatitude, Metropolitan Jonah gave his blessing for Fr. Christopher to Chrismate and Commune her. She woke from a comatose-like state being unconscious and unresponsive in the ICU unit in the hospital to receive Holy Communion after being Chrismated, and again the day before her repose on Thursday July 1, 2010.
Jeanette was born October 5, 1937 in Lenoir County to the late Harry Talmadge Rouse and Eunice Alphin Rouse. Jeanette enjoyed cooking, trips to the beach, crochet, needlepoint and most especially, time with her grandchildren. She was active and worked all her life raising her two sons almost single handedly, never asking anyone for anything, and never refused to help a friend or loved one.
The funeral for the newly reposed handmaiden of God Anna (Jeanette) was held Wednesday, July 7, 2010 at 10 a.m. at Holy Cross Orthodox Church with Father Christopher officiating. Interment was Wednesday at 4:30 p.m. at Fairview Cemetery, La Grange, NC.
Jeanette is survived by two sons, David Lanier of Greensboro and Randy Lanier and wife, Phyllis of Goldsboro; two grandchildren, Joshua Lanier and Brock Lanier; two great-grandchildren, Rebecca Lanier and Madelyn Lanier; brother, Melvin Rouse of Reno, NV; and two sisters, Johnnie Bell McPhaul of Raeford, NC and Bruce Bennett of Okeechobee, FL. Jeanette was preceded in death by her former husband, Bobby Lanier.
David would like to extend his heartfelt thanks to everyone at Holy Cross who came out for the funeral, for those who sang, those who cooked a lovely meal that we shared after the funeral, and everyone else who came to pay their respects. A very special thank you also to Reader Daniel and Rachel Kowalcheck for coming down east to La Grange for mom's burial and bearing the unyielding 105 degree heat to also sing the hymns of memorial for the Blessing of the graves of David's maternal grandmother Eunice & grandfather Henry, Jeanette's twin sister Annette, and her brother Gerald; and most especially thanks so much to Fr. Christopher for being there through it all and being God's Instrument of Grace, and for visiting mom and praying with her when she was in the nursing home.
With the souls of the righteous departed, grant rest, O Lord, to the soul of the newly departed Handmaiden of God, Jeanette (Anna).