The 2,000 Mile Journey
For Our Iconostas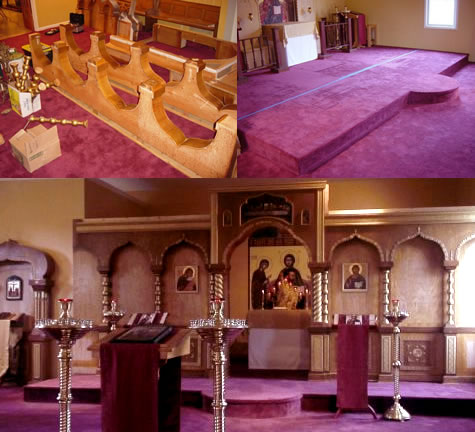 When the Annunciation to the Theotokos / St. Nicholas Cathedral generously found that they were able to offer to our parish an iconostas, that was the wonderful news! We certainly wouldn't call it "bad" news, but the "other" news was that it was in Ottawa, Canada! So someone from our parish had to drive up there, pack it all up, and drive it all the way back, a journey of nearly 2,000 miles! Adam and Rob generously offered to make the trip, and apparently it was quite an experience. We asked Adam to tell us the story:
In February 2007 when we heard about the opportunity of Holy Cross getting an Iconostas from a church in Canada just giving one away, well, to say the least Rob and I jumped on the opportunity for a road trip. The fact that it was in Canada (a favorite destination for us both) was an added bonus. So we played the waiting game to hear back from the church so graciously giving one away. But we all had a big let down after the all excitement when we learned that a church in Manitoba beat us to the punch in showing interest. We all moved on expecting the worst but also happy a mission church was going to get something to help them too!
In June, Father Christopher notified some of us that the opportunity arose again. However, we wanted to keep it somewhat quiet this time thinking something might happen to prevent us from getting it. Like two college kids, Rob and I were all too eager to jump on the chance for a road trip, especially when it benefited the mission.
So, let the planning start. It was ironic, I had been out of the country for nearly all the month of June and was trying to work out planning with Rob via email from Germany. We looked at so many options. We could drive my car to Ottawa and rent a a truck and trailer and bring my car back that way. But, we learned that we couldn't rent a truck in Canada and leave it in the US due to US safety violations with differences in automobile safety. We also looked at renting a truck in Greensboro and driving it up empty, but decided that fuel prices were too high for that to be cost effective. So, cheapest option was to rent a car in Greensboro and drive it to Harrisburg, PA; to spend the night there; and then turn the car in and pick up the 40' rental moving truck in Harrisburg and drive up to Ottawa, Ontario and drive it back loaded. It all sounded so good on paper and in planning, but so little actually works out to plan in reality...
So, while I was still away on business, Rob planned most of the trip once we decided what we were going to do. July 20th rolled around. Rob picked up the car and picked me up at my house and then off we went with high ambitions after we both got off of work around 4pm on Friday. After a quick stop in Roanoke, VA for a quick bite to eat, we hopped on I-81 for the long road ahead for the evening. Around midnight, we arrived in Harrisburg, PA and found where to pick up the rental truck in the morning. Like Greensboro, how popular could Harrisburg really be? Meaning, we didn't book a room in advance thinking we'd have no issues finding a room. Oh how wrong we were!!! We stopped at all the local spots trying to find a room. Nothing. Apparently there was a car show going on in Carlisle (about 45 minutes south) and The Police had a concert that nearby that night. Add that we didn't know Hershey Park was nearby and needless to say, nothing nearby was vacant for a room. We drove north for the next 3 hours (almost to Allentown, PA) before we found a hotel that had anything available. Thankfully, we got the room (a smoking room) and basically crashed our weary bodies. I slept better than Rob, apparently he had no idea I talked in my sleep.
Needless to say we woke up early after getting four hours of sleep because we had to backtrack 2.5 hours back to Harrisburg to return the rental car and to pick up the moving van. Picking up the van was no problem at all. So, I drove the van and followed Rob all the way across Harrisburg trying to find the rental car store. Apparently, they rental car company had recently moved and had neither a sign nor a street number on their building. After one hour of searching and finally finding it, we finally got on the road about 11am, which is about 3 hours later than we really wanted to leave. This really impacted the schedule of things.
I took the first shift driving since Rob drove most of the trip on Friday. The basic plan was to take I-81 all the way up to the Queen Elizabeth 1 in Ontario. That all went according to plan until we hit one of the biggest traffic backups I have every been in outside of Syracuse. Luckily, one of Rob's friends lent us a GPS navigation device. This sent us about 45 minutes out of our way on back roads to avoid the traffic jam and put us back on I-81 near Watertown, NY. The border was extremely busy at the Thousand Islands border crossing. This was funny because I'd been lecturing Rob on my "expert" border crossing talk all day. When we get to the border with our gift of NC foods for the church, I am the one who panicked (after all, we had NC wine with us). Rob handled it well, ridiculed me in jest for a while (I deserved it), and we continued on. About three hours later, we arrived at Annunciation Orthodox Cathedral about 7:30pm, right after Vespers. Needless to say, few were there and our plans for packing and leaving on Saturday were shot!
However, we met some of the most wonderful people in our short stay. We immediately were introduced to the Clergy by Deacon Gregory Scratch. His Eminence Archbishop Seraphim was every bit as nice and wonderful as everyone said. They were all great. One of the parishioners gave us her house for the evening even though she was going out of town. Later, we ate with Deacon Gregory's fantastic family. Soon after, Rob and I unpacked and walked around Ottawa for the night to see some local sites downtown, fairly exhausted, and then went to bed fairly early.
The next morning (Sunday) I got up, and saw Rob as I was on my way to get ready for the day. Rob was not looking good. It turns out that somewhere along the way Rob had picked up some sort of bad stomach bug. I went into a panic thinking, "How are we going to get back? I have to work Monday morning!" So, he managed to find the strength to make it through the day. We went to Liturgy. Liturgy was really nice. They had one of the most beautiful choirs I have ever seen and heard, but one of the smallest at seven members. But their sound really filled that tall-ceilinged cathedral. They sounded great! And it was further interesting because this was the first Hierarchical Liturgy that I had seen. And to top it off, this was the service of the blessing of their new church building! What a wonderful service! After service was a small fellowship meal, and then the big task, packing the truck with the iconostas.
I backed the van up a narrow alley because all the items were in the Cathedral's basement. In the process of getting the iconostas out in pieces, lots of pieces, Deacon Gregory was interested in handing off other items like an old chandelier, pews out of the old Roman Catholic church (the previous building's tenant), icon alter, and schedule display. After packing the poor truck as full as it could get for two hours, Rob asked me for the keys. We couldn't find them. Oh no! I locked them in the van! We made calls but the van company wasn't open on Sunday in Canada. Rob worked to find a locksmith and finally found one who could come out. After another long hour, the truck was unlocked. But the locksmith wouldn't take a credit card!!! Now to find an ATM. No one knew where one was locally. So, I walked for blocks looking for one and finally found one about 8 blocks away from church. I got the money, paid the locksmith, and we were finally ready to get back to North Carolina. It was 3:30pm and things were looking bad. Rob was still not feeling well. And the drive as 3 hours longer than we had anticipated. Basically, here it is late afternoon and we have a 14 hour drive ahead of us.
Rob started driving back and we made it through a different, low traffic border crossing at Ogdenville to save time. Pretty soon, Rob started feeling sick again a little south of Watertown, NY and so I took over driving around 5pm. We were in bad shape. We were running very late. And we still had twelve hours of the trip left. The trip back was uneventful other than Rob was out of commission sick. And it must have been really uncomfortable to be nauseous in a moving van that isn't known for a smooth ride. I ended up driving through the night until about four hours north of Greensboro around 3am Monday morning that I started really fading. I'd been driving an uncomfortable moving van for 10 hours straight by now. We stopped for fuel, I got 3 Red Bulls and we continued on. Rob was sick, very cold and freezing and needed the heat on to be comfortable. But I was extremely tired and needed the air conditioner on to stay awake. So Rob, by the grace of God, somehow managed to let me keep the A/C on. So we kept driving and hit one of the biggest thunderstorms I saw all summer near Roanoke. But I refused to let that slow us down.
Around 6:30AM after 13.5 hours of driving non-stop, I took a very sick Rob home and I went directly to my house and parked the moving van for Father Christopher to pick up later i the day. I immediately jumped into my car and went directly to work.
The story sounds so terrible when you read it. However, I look back on it with rather fond memories. It never seemed that bad to me. We got to meet some wonderful people. We participated in a wonderful Liturgy. And, we helped our church to get an item that really adds to the feeling that we're moving away from that mission church stage.
---
We invite you to see photographs of the iconostas as it was being partially reconstructed in its new home! The Annunciation to the Theotokos / St. Nicholas Cathedral shared some photos of how the iconostas originally looked and of the process of dismantling it: